The first commercial Karnes Orchard was planted in March 1876 by Joseph Karnes, Jr. (my great, great grandfather), featuring approximately 50 trees and 15 different varieties of apples.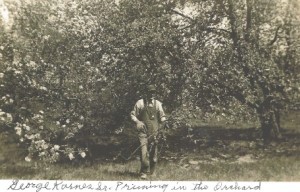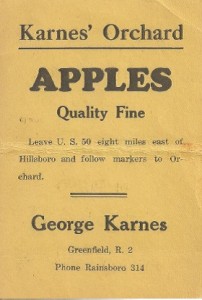 Upon Joseph's death in 1916, he willed the land to his sons, and George Karnes, Sr. (my great grandfather) took the lead role in maintaining the Karnes Orchard. As George, Sr. aged, three of his sons, Paul, George, Jr. and William, continued the family business with George, Jr. (my grandfather) taking the initiative to expand the Orchard and begin marketing it under the Karnes Orchard name. George, Jr., commonly known as "Bill" Karnes, opened Karnes Orchard Market on US highway 50 in 1954, and it remained there until 1993.
As we have now reopened Karnes Orchard in its original location on Worley Mill Road, it is significant to trace the rich history of Karneses who have lived on the land since Henry Karnes purchased the original 10 acres in 1810:
Henry Karnes, father of ..
Joseph Karnes, father of ..
Joseph Karnes, Jr., father of ..
George Karnes, father of ..
George "Bill" Karnes, Jr., father of ..
Kay Karnes, mother of ..
Steve Karnes (me)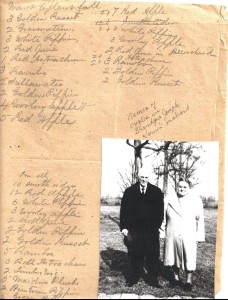 In 1977, I moved back to Ohio after graduating high school in Albuquerque, NM and spent 10 years working for my Grandpa Bill and Grandma Jane on the Orchard and their farm. During that decade, I met and married my wonderful wife Zelda Behm, and soon after we welcomed our three beautiful girls. Although my heart loved the Orchard, I developed another interest and completed education in technology that more readily allowed me to provide for my growing family. In 1988, Zelda and I moved our family away from Ohio for a promising job opportunity, but my heart never left the orchard. Those years had given me a taste of orchard life, and I sensed a still, small voice telling me that someday we would return.
That voice grew faint a few years later when Grandpa Bill passed away and was all but gone in 1993 when the market closed and the Orchard went dormant. But hope was never completely gone. My parents, Charles and Kay Karnes, had purchased the former and current Orchard site from George, Jr. in 1972. In the Lord's master plan, he had made sure the original land stayed in the family, and I knew the door was always open to revive the rich tradition of the Karnes Orchard.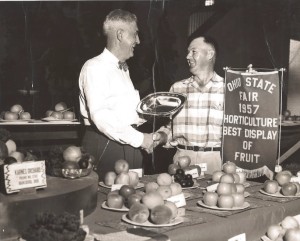 Recently, the calling voice beckoned me to cultivate the land and see if she still wanted to give birth to fruitful trees. The door swung open wide as Zelda and I received tremendous encouragement and support from our children parents, siblings, nieces, nephews, cousins, and even Grandma Jane Karnes, who remembers better than anyone the glory days of the Karnes Orchard. In March 2012, 136 years after the original orchard was planted, we began planting the current Karnes Orchard with 2,200 trees and over 30 different varieties of apples, including many of the originals from 1876. In 2013, we planted 2,000 more trees of greater variety and even different fruit.
In September 2013, for the first time in 20 years, the Karnes Orchard opened for business as we hosted a one-day sneak peek event and in the Fall of 2014 we held our grand opening. Currently, we are preparing to be open a lot more. With the good Lord's help, the award-winning quality apples and family-friendly atmosphere of the Karnes Orchard will be blessing this community and its families for years to come!
Come and see us this fall and become apart of this great history. We look forward to seeing you!
Steve Karnes
8200 Worley Mill Rd
Hillsboro, OH